Liquid Dreams & Dreamland Studios
I met my former business partner, Quinn, while vending next to each other at Symbiosis in 2016. She was just hitting her one year mark in business with her company KritterKlips and I was running all festival sales of another clothing company at the time.
Like many friendships founded on vendor row, it all started with a simple trade. I got a couple pairs of ears and Quinn got a couple shirts. I fell in love with her cute, fun, and unique little ears. About a week later, I quickly became her first of many wholesalers, happily adding KritterKlips into my booth. As the season progressed I realized that I was ready to bring my creativity and vision to the table, finally fulfilling the dream of starting my own clothing company that became Liquid Dreams.
Quinn and I had regular phone conversations as friends and small business owners. She brought up the fact that as a single mom, she really needed help with outside sales and festivals — I brought up the idea that since I was traveling all the time doing sales, I really needed an office to handle order fulfillment and systems. We soon began to realize that we had what each other needed! We joked about the idea of starting a company together every time we were stressed out throughout the year. Eventually, we both realized that it actually made the most sense, so we spent the first part of 2018 combining our office, back end, inventory, and staff, creating a parent company called Dreamland Studios.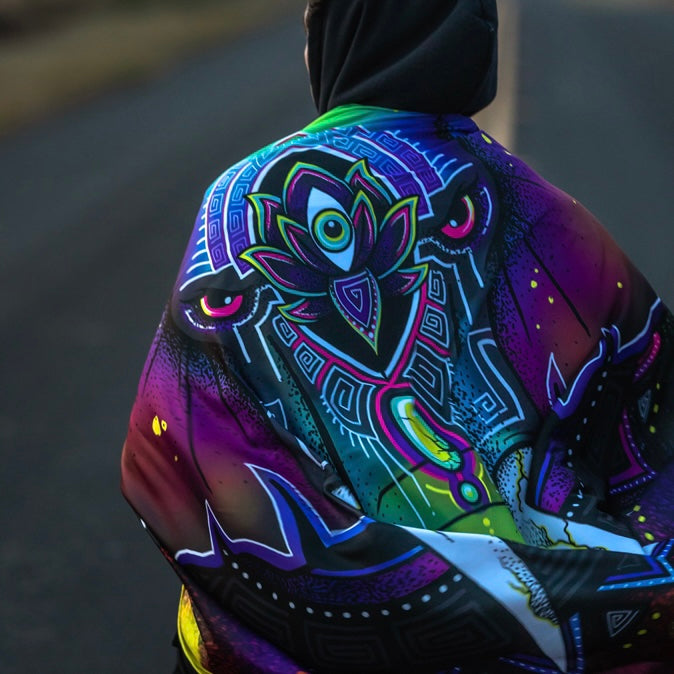 With this set up, we allowed each other to thrive in our personal strengths and not worry about the big picture that most business owners have to tackle on their own. With my background in art and festival management and Quinn's in clothing design and operations, we felt stronger than ever in our ability to continue driving brands that connect to humans on a personal level while contributing to society on a larger scale.
At the end of the day, we shared the same vision. We both wanted to create a better world through art. We both believed in being a part of the greater good and using our talents to make our community and our world a better place. Together we handled creative decisions, chose nonprofits or causes to donate to, and found out ways to be creative and caring at the same time. We essentially created "Functional Art For A Dysfunctional World." Quinn has since entrusted her brand and the company we created, to myself as she went on to pursue her passions in wholistic medicine. Today, the objective is still the same, though, as we continue to vend at festivals with our crew, expand our reach online, and just have fun doing what we love.
Have any questions or want to know more? Feel free to reach out to us at support@liquiddreams.com.